New bundle deal get a Buzztv XR4500 & Amiko LX800 for only £129.95. Buzztv Premium design, hardware and includes the exclusive Buzztv4 app for the best unique user experience for IPTV.

Amiko LX800 Linux Based H.265 | MYTV | WiFi | OTT IPTV Media Streamer, includes MYTV App for IPTV, VOD, TV Series. and Amiko Launcher. Classed as a budget box.
Buzztv XR4500 Android Media Player & Amiko LX800 Linux Player with MYTV
Key Features
BuzzTV redefines the OTT / IPTV set-top box. High Performance specs, Premium materials and Innovated software parred
with Industry leading support. BuzzTV XR4500 features 2GB DDR Ram, 16GB Memory, Gigabit LAN, 2X2 Dual Band AC
Wi-Fi and Wireless Bluetooth LED backlit remote control. Under the lid this beast is powered by Amlogic S905X3 CPU and
Mali-G31MP2 GPU. The XR 4500 Thermal reduction metal base not only looks good but prevents overheating. XR4500
includes Energizer AAA Batteries.
BuzzTV 4 App Improved User-Interface is sleeker and 2x faster than previous versions. BuzzTV 4 features intuitive channel
list page, quick access to categories and one button access to your favourite shows. Brand new Video on Demand (VOD)
grid design allows faster navigation to scroll through your movies faster than ever. Coming Soon: Multi Launcher Support
includes XPL3000 Classic UI
XR4500 Operating System is Powered by Android 9. This modified OS is optimized for better performance and features Full
system backup & restore. The new cleaner designed launcher makes it easier to access your important
stuff faster. BuzzTV Utilities provides the ability to customize the home page launcher and more.
BuzzTV slogan is "Everyone's TV Box", finally you have an Android box that satisfies both hobbyists and Newbies.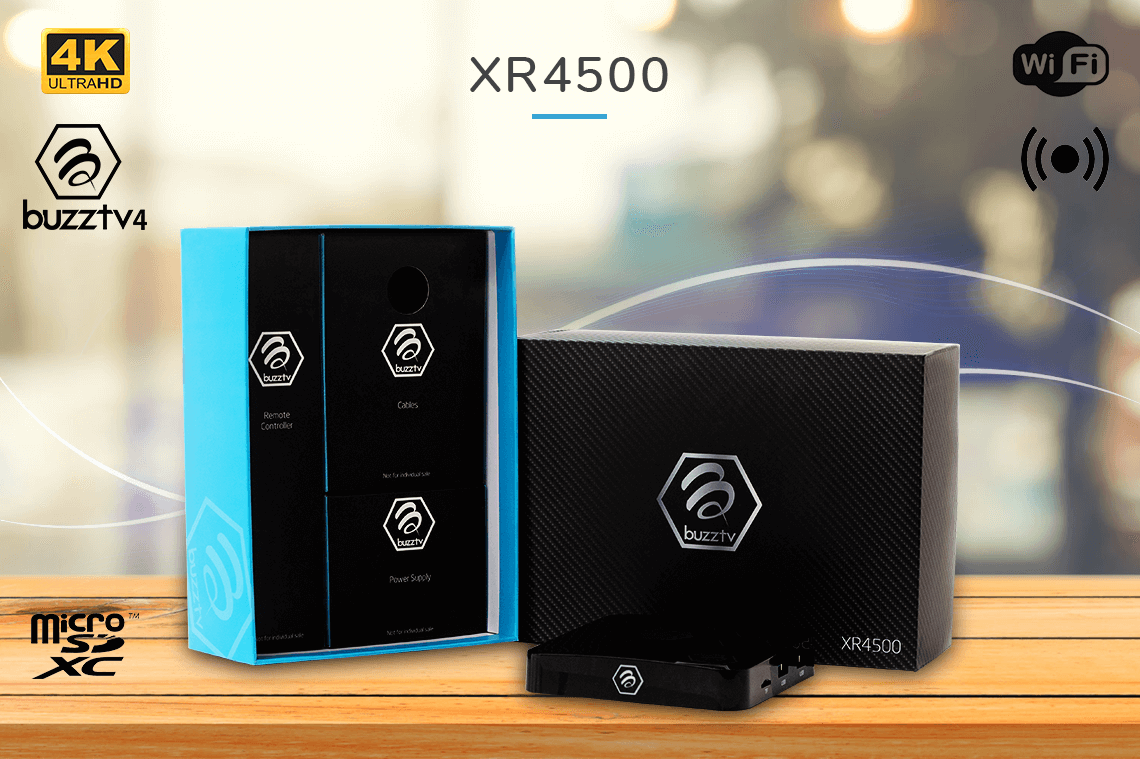 XR4500
2GB DDR4 RAM
16GB Internal Memory
1 Gigabit LAN
HDR
OTA Updates for Android &BuzzTV 4
New Dual IR & Bluetooth Learning Remote Control with Backlit Lights
HDMI 2.1
Dual Band Wi-Fi 2.4 & 5G with MIMO Technology 2 Internal Wi-Fi Antennas
Android OS 9.0
Amlogic S905X3
Thermal Reduction Metal Base
Full System Backup / Restore
2x System Performance
3x Faster Channel Zapping
Recording/Playback feature
Middleware / Stalker
Apps Market: Google Play Store &Aptoide
Multi Launcher Support
Includes Official Energizer Premium Batteries
Amiko LX800
Reliable LINUX OS
Built in Wi-Fi
Catch-up TV Support
MYTV (Stalker) support - Supports up to 8 Portals
H.265 Support
Ethernet Connection
Live TV
VOD
TV Series
YouTube
Built in Wifi
Catch-up Player
EPG Support
Single EPG
Hardware
The XR4500 physical appearance is larger in size than the previous predecessor models such as the XR/XRS 4000, boasting a clean modern design with a curved top housing cover in high gloss black colour and a neat Buzztv famous hexagon print across the top with the official BuzzTV logo.

What's intriguing is the LED BuzzTV logo on the front of the XR4500. The logo will change colour according to the device network or external connectivity status.
Cyan light breathing – Network is not connected
Blue light breathing – Network is connected
Lantern breathing – Voice remote input / USB device access / TF card access
Red Light – Standby
XR4500 IR & BLUETOOTH REMOTE CONTROL (BT-100) WITH BACKLIT LIGHTING
Buzztv new BT-100 remote control with dual IR and Bluetooth technology, includes a back-light feature that light
up the function keys when holding down the blue key for 5 seconds to activate the light.

The new remote-control unit is built to high standards with perfectly aligned low profile buttons and dynamic
contour lines, the remote control feels flawless. The remote control has all the functions such as: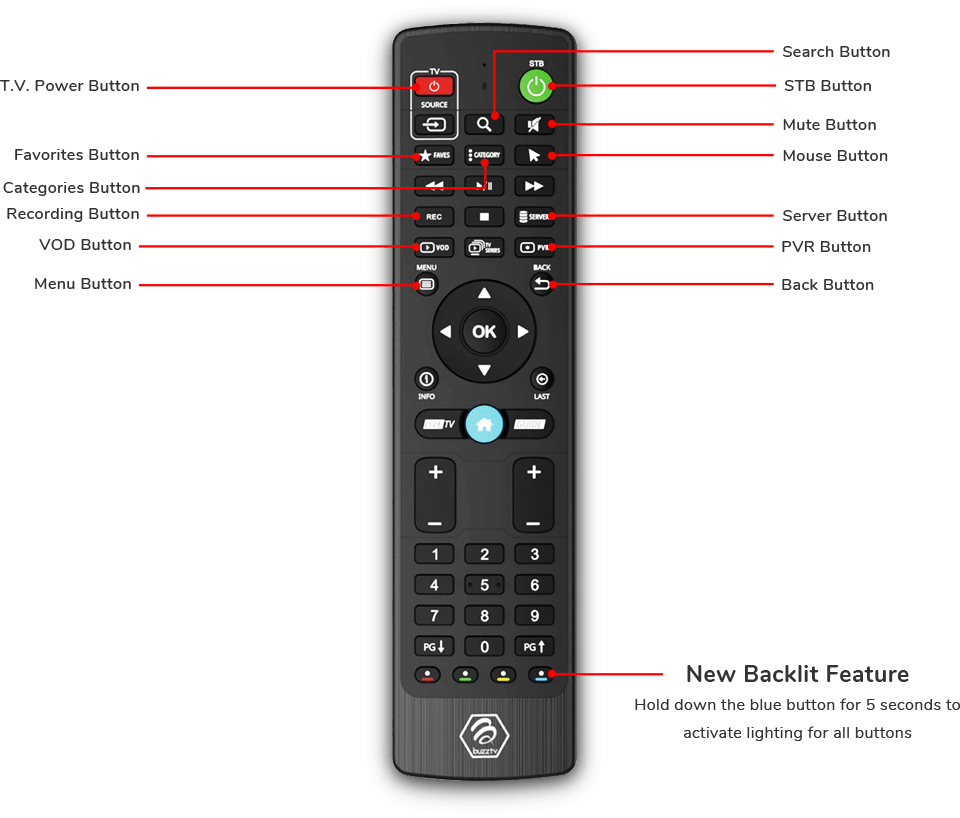 Buzztv 4 App
BuzzTV aim is to give a personalised user experience and at the same time offer more features in the BuzzTV 4 platform like no other brand that is current in the market.
They are the first and only brand that implemented on the home screen, Live TV, VOD, TV Series, EPG Guide and a fantastic new Live TV Preview Screen all in one, so you can be sure you'll never miss your important live content.
In addition to the features above, they managed to integrate your favourite content such as your favourite Live TV channels, VOD and TV Series to your home screen.
The performance compared to their previous 3000 series and other android IPTV brands is much faster like the navigation, scrolling speeds and channel zapping.
*First Multi-Screen Option Design by Buzztv Enjoy the luxury of switching to 3 different home screens of your liking, giving you the comfort of enjoying the best user experience. *Coming Soon
MYTV APP Interface
The Amiko LX800 is designed for basic budget set top box with Amiko launcher and the MYTV App for your live TV
VOD and TV Series. Option to add your provider portal data to view IPTV content. You can add your own USB
memory stick or HDD to record your content, Ethernet port, S/PDIF Port, AV Port, 1 X 2.0 USB Port and HDMI Port.
Product Specifications
XR4500
CPU - Amlogic S905X3 64-bit quad-core ARM® Cortex™ A55
GPU - G31™ MP2
RAM - 2GB LPDDR4
STORAGE - 16GB
Operating System: Android 9.0™
WIFI - 2.4GHz + 5GHz + 2X2 WIFI
Remote - Dual IR + Bluetooth Remote and Backlit
Bluetooth - 4.1
Ethernet: 1Gbit LAN / 1000Mbits
AV Port
Optical - S/PDIF port
DC Input
USB – 1x 3.0 USB & 1x 2.0 USB
Card Reader – 1x Micro SD Card Slot
HDD file system support - FAT16/ FAT32/ NTFS
Subtitle Support - SRT/ SMI/ SUB/ SSA/ IDX+ USB
High Definition video output - SD/HD Max. 1920x1080 Pixels
OSD Language Support - English/ French/ German/ Spanish/ Italian/ etc multilateral languages
Resolution output - HD 2.1 up to 4k2k Output with HDR, CEC and HDCP 2.2, 4Kx2K@60 Max. 4k2k H.265 Hardware Video Decode and 4k2k Output
3D - Hardware 3D Graphics Acceleration
Audio Decoder - Supports MP3, AAC, WMA, RM, FLAC, OGG and Programmable With 7.1/5.1 Down-Mixing
Amiko LX800
Open VPN Support From Firmware Version 2.0.3.0!
New Feature From Firmware Version 2.0.3.0.
Portal Setup Supports up to 8 Portals.
Amiko LX800 Channel List View.
Amiko LX800 EPG View.
Amiko LX800 Info Bar View.
Audio Decoding: MPEG-1/2, AAC-LC, HE-AAC, MP3
Video Decoding: HEVC/H.265, MPEG-4/H.264, SP@L3 to ASP@L5, MP@ML, MP@HL, MP@L4.1, HP@L4.1
Standby Power Consumption: <0.5W
USB: 1 X 2.0
LAN: 10/100 MB Multimedia
Movies: TS,TP,TRP, M2TS, XVID, MPG, MPEG, DAT, VOB, MP4, AVL, MKV, MOV, H265, FLV
Music: MP3, AAC
Picture: JPG, BMP, JPEG
Subtitle: SRT, ASS, SSA
OS: Linux
Video/Audio Outputs: HD Out, AV Out (Jack)

What's in the Box
XR4500
BuzzTV XR4500 Android IPTV OTT Set Top Box
BuzzTV BT-100 Remote Controller
HDMI Cable
Power Adapter with UK, EU and USA/Canada Attachments
2X AAA Official Energizer Batteries
Quick Start Setup Guide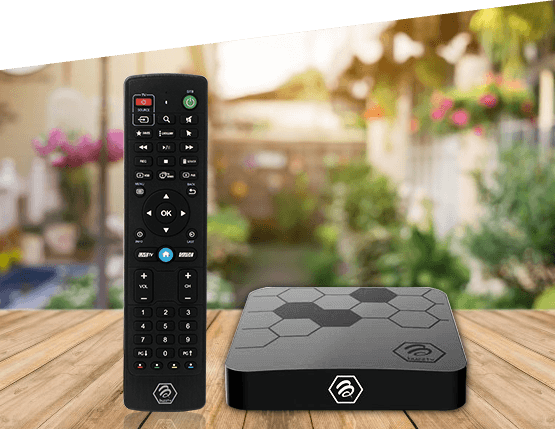 Amiko LX800
Amiko LX800 Linux H.265 Media Streamer
HDMI Cable
Remote control unit
3 Pin UK power supply Plug
Quick Start Manual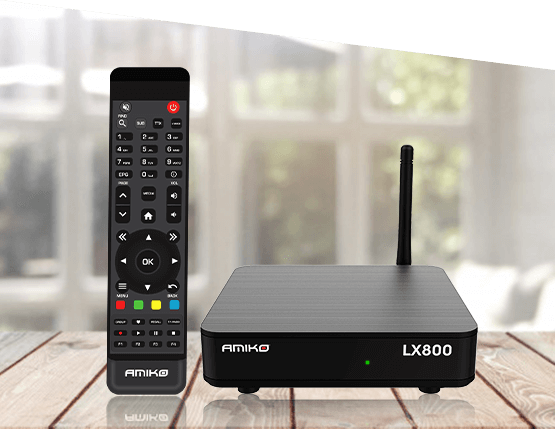 Note
Features listed here may require additional and/or periodic firmware updates. We are not responsible for third party firmware and features, addons, patches or third-party services and the availability of such services on this receiver (such as YouTube, etc.). Your warranty covers receiver hardware only and is not extended to software updates or setup, we may however extend this at our discretion to offer support for FTA (free to air) reception where the service provider permits connection to their network.

Note: That MYTV and BuzzTVdoes not come with any channels, video content or portals pre-loaded.