***PAGE UNDER DEVELOPMENT ***
IN STOCK ORDER NOW!

FOR TRADE ENQUIRIES PLEASE USE OUR CONTACT US PAGE OR
+44 208 004 0331

XRS 4000 ANDRIOD 9 BUZZTV 4 IPTV MEDIA PLAYER
MASSIVE 4GB RAM & 32GB MEMORY!
WITH OFFICIAL ENERGIZER BATTERIES
ONLY £115.00
OFFER ENDS 30TH NOVEMBER 2019
THE BEST IPTV BOX!
2 YEARS HARDWARE MANUFACTURER WARRANTY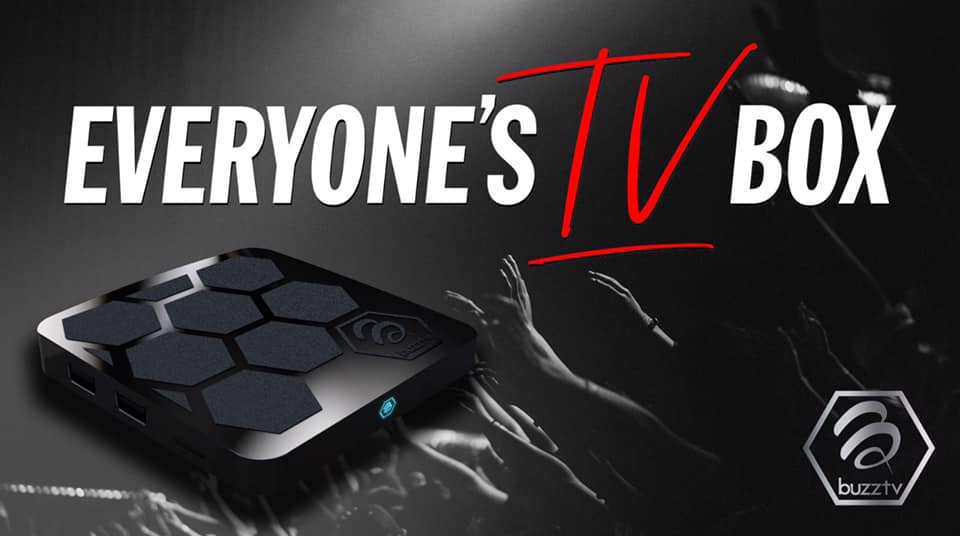 The All New POWERHOUSE BuzzTV XRS4000 is the First OTT set top box with 4GB DDR4 RAM. BuzzTV XRS4000 is completely redesigned inside and outside. In addition to boosted hardware, there are enhanced features like Smart LED Light technology and Thermal reduction metal base. This model uses AMlogic S905X2 processor with 4GB DDR4 and increased 32GB memory. BuzzTV keeps you up to date and protected from potential software vulnerabilities automatically with Android security patches sent OTA. XRS4000 comes with BuzzTV IR-100 remote controller which is, slightly bigger, more buttons for 1-click actions and Smart learning remote. This Premium box includes Premium Energizer AAA Batteries.

BuzzTV 4 App Improved User-Interface is sleeker and 2x faster than previous versions. BuzzTV 4 features intuitive channel list page, quick access to categories and one button access to your favorite shows. Brand new Video on Demand (VOD) grid design allows faster navigation to scroll through your movies faster than ever.

XRS4000 Operating System is Powered by Android 9. This modified OS is optimized for better performance and features Full system backup & restore. The new cleaner designed launcher makes it easier to access your important stuff faster. BuzzTV Utilities provides the ability to customize the home page launcher, Smart LED Light and more.
FEATURES:
Improve BuzzTV Interface
4GB DDR4 RAM
32GB Internal Memory
Android OS 9.0
AMlogic S905X2
Latest Graphics Processor
Thermal Reduction Metal Base
Full System Backup / Restore
2x System Performance
3x Faster Channel Zapping
New BuzzTV IR-100 Remote
SmartLED Technology
New Video Player
OTA Updates for Android & BuzzTV 4
Includes Energizer Premium Batteries
OS: Android 9.0
App: BuzzTV4
CPU: Amlogic S905X2
Core: Quad Core
RAM: 4GB DDR4
Memory: 32GB

Decoder Format: H.263,H.264,H.265,HD MPEG4
Audio format: AAC,FLAC,MP3,OGG,RM,WMA
Video format: H.265,MPEG1,MPEG2,MPEG4,Real 8/9/10,RM,RMVB
Support 5.1 Surround Sound Output: Yes
WiFi: Dual Band AC
LAN Port: 10/100MBps
Interface: AV,DC Power Port,HDMI,RJ45,TF card,USB2.0,USB3.0
Language: Multi-language
HDMI Version: 2.0
Other Functions: Airplay, DLNA
The XRS 4000 Hardware
The XRS 4000 has a sleek modern design with a curved top housing cover in high gloss black colour and includes their famous hexagon print across the top with the official BuzzTV logo.
What's intriguing is the LED BuzzTV logo on the front side of the XRS 4000. The logo will change colour according to the device network status or external connectivity status.
Cyan light breathing – Network is not connected

Blue light breathing – Network is connected

Lantern breathing – Voice remote input/USB device access/TF card access

Red Light – Standby
The new remote control unit is built to high standards with perfectly aligned low profile buttons and dynamic contour lines, the remote control feels flawless. The remote control has all the functions such as:
• Server (Switch Portals)
• TV Series
• VOD
• Favs (One Button access for Live TV, VOD, TV Series Favourites!)
• PVR (access to recordings)
• Mouse Cursor
• Search (Search for channels, movies, series)
BuzzTV 4.0 Platform
BuzzTV aim is to give a personalised user experience and at the same time offer more features in the BuzzTV 4 platform like no other brand that's current in the market.
They are the first and only brand that implemented on the home screen, Live TV, VOD, TV Series, EPG Guide and a fantastic new Live TV Preview Screen all in one, so you can be sure you'll never miss your important live content.
In addition to the features above, they managed to integrate your favourite content such as your favourite Live TV channels, VOD and TV Series to your home screen.
The performance compared to their previous 3000 series and other android IPTV brands is much faster like the navigation, scrolling speeds and channel zapping.
BuzzTV Utilities
A great new feature that allows you to manage your XRS 4000 configuration all in one place such as System Update, Backup & Restore, LED Configuration, Home Screen Settings, Power Options.
What's in the Box
BuzzTV XRS 4000 Android 9 Media Player

Quick Start User Manual

Remote Control Unit

2x AAA Batteries

HDMI Cable

Power Supply Unit with UK and EU attachment

Converter Cable - Female Jack to Male Jack